作品名: nightwalkers delight
作家名:坂野充学

制作年 2019年
メディア: ミクスドメディア
Title: nightwalkers' delight
Artist: Mitsunori Sakano

Year: 2019
Material: Mixed media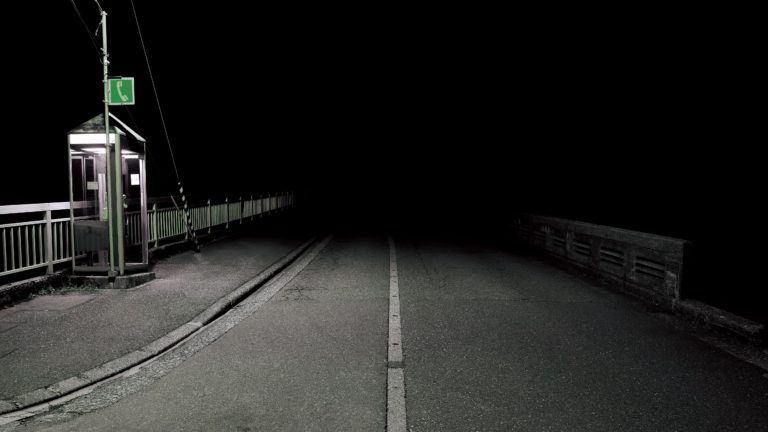 For 15 years between infancy and high school Sakano passed the village bridge every day on the way to school and frequently used it as a place to play, but when the evening came this bridge was wrapped in darkness. One day, when he had just entered elementary school, a school friend and he decided to face this darkness. He remembers secretly stealing out one night, with his father's suit, sunglasses and bag, on a small adventure. Then when he was in high school a girl, who had transferred from somewhere in Kanto, said to him, as They were talking beneath the bridge, "when I pass through this darkness on my way home I feel like it could lead to another world which won't let me back", these words at that time were like a torch, illuminating the unseen future, such was their impact. The reference of this work "THE DARKNESS MAY LEAD TO A WORLD BEYOND" is an allusion to this. From that day when he took a small trip in the middle of the night, to now, after the days and months of over 20 years have passed, he again recall my childhood friend at night, and go out on a small trip of curiosity. And with a suitcase of the girl's illuminating words as my torch – He climbs the bridge. 
8台 ※
セミダブルベッド(4)、
シングルベッド(1)、ソファーベッド
(1)、敷マットレス(2)
チェックイン 15:00〜20:00 / チェックアウト 11:00

6  ※ 1 Semi-double beds, 1 single bed, 1 Sofa bed, 2 Mattress beds

Check-in 15: 00-20: 00 / Check-out 11:00

1 free parking lot * Advance reservation required

・施設に隣接した無料駐車場を1台分ご用意しています、路幅が狭いですので進入に注意が必要です。
・近隣にはコインパーキングがございませんので予めご了承ください。
・ We have a free parking lot adjacent to the facility for one car. The road width is narrow, so be careful when entering.
・ If you wish to use the service, please make a reservation before arrival.
・ Please note that there is no coin parking nearby.
アメニティー・設備
Amenities / equipment
冷蔵庫/電子レンジ/IHクッキングヒーター/電気ケトル/包丁/まな板/フライパン/グラス/コーヒーカップ/箸

/スプーン/フォーク/ナイフ/栓抜き/ワインオープナー/キッチンペーパー
バスタオル/フェイスタオル
/
シャンプー/
コンディショナー/ボディソープ/歯ブラシ/ボディスポンジ/ハンドソープ
Bath towel / face towel / shampoo / conditioner / body soap / toothbrush / body sponge / hand soap
Refrigerator / Microwave / IH cooking heater / Electric kettle / Kitchen knife / Cutting board / Frying pan / Glass / Coffee cup / Chopsticks / Spoon / Fork / Knife / Bottle opener / Wine opener / Kitchen paper